By Jay Davis, Digital Director, Americans for Tax Fairness
JPMorgan Chase sold faulty mortgages to Americans, severely damaging the economy for its own gain.
But it gets worse, if you can even believe that: Thanks to a tax loophole, it might be able to deduct from its taxes any costs related to the settlement it's currently negotiating for its bad behavior — and that deduction could be as much as $4 billion.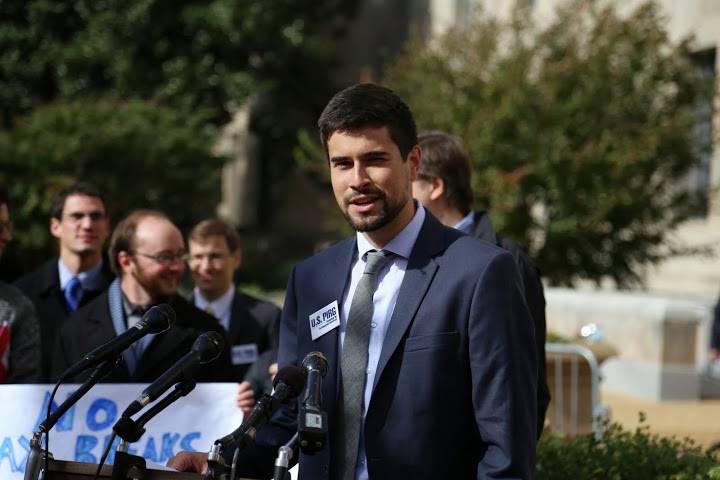 Along with our friends at U.S. PIRG, we went down to the U.S. Justice Department this morning to send a message to Attorney General Eric Holder, who has the power to prevent this from happening.
We weren't just there to raise our own voices. We delivered over 160,000 petition signatures, including 13,247 from folks who took action with ATF. Thanks to everyone who spoke up — and know that we hand-delivered your messages to make sure none of them got missed.
Francisco Enriquez of U.S. PIRG explained to the crowd that gathered, and to the media, just why this potential deduction is such a bad proposition for Americans:
"Wrongdoing may mean that an elderly couple is forced to leave retirement and work again full time at whatever job will take them because a bank improperly foreclosed on the home they lived in for 26 years. Wrongdoing takes the face of a cancer patient who is now homeless after facing the choice between his medication and the colossal loan payments for his robo-signed mortgage…

When you consider the real human consequences, it is absurd that JPMorgan could get a tax deduction for this wrongdoing. The upcoming JPMorgan Chase settlement is expected to be the largest corporate settlement in Justice Department history. Yet, unless the Justice Department prevents it, JPMorgan could heap billions of dollars right back onto the shoulders of taxpayers by writing off its wrongdoing. That would be adding insult to injury.

JPMorgan should not get taxpayer subsidies for ruining countless people's lives. Its actions were not just the ordinary and necessary cost of doing business."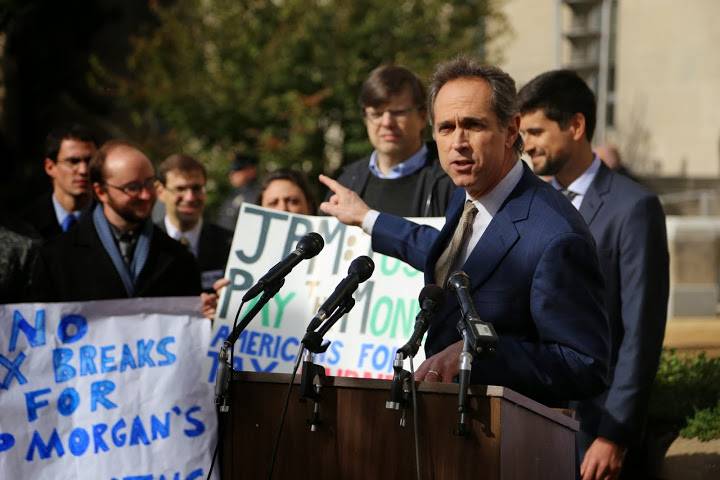 And ATF's campaign manager Frank Clemente drove home that JPMorgan Chase should simply pay the settlement — and contribute towards the services that keep working and middle class Americans afloat:
"JPMorgan's stock ticker symbol is JPM. For us that means 'Just Pay the Money.' The company's proposed 'wrongdoing write-off' of up to $4 billion is enough to feed 2.5 million hungry Americans for a year in the Food Stamps program. Or $4 billion could restore nearly all the automatic spending cuts made to the federal government's environmental, energy and science budgets in 2013…

Attorney General Holder has the power to close this loophole in settlement talks. He needs to exercise that power. And Congress needs to permanently close this loophole through legislation to ensure that wrongdoers pay what they owe."
Check out the full audio here — and stay tuned. We'll keep you posted on the outcome and on more ways you can help ensure that JPMorgan Chase takes responsibility for the damage it caused.