The Center on Budget and Policy Priorities is out with a new report detailing how states are on track to loose $600 million in revenue from one corporate tax loophole:
Over the past few years, states have faced large budgets gaps caused by a dramatic decline in revenue collections since the start of the recession. One contributor to this fiscal crisis in many states has been a relatively new corporate tax break — one that in most states never even received a vote in the state legislature but nonetheless is costing states hundreds of millions of dollars each year.
The federal government created this tax break, known as the "domestic production deduction," in 2004.  Since most states base their own tax codes on the federal tax code, the tax break was carried over into many states without specific legislative scrutiny or a vote.  Now it is costing not only the federal government but also 25 states a large amount of money.  By 2014, it will cost these states over $600 million per year…

The revenue loss to states that still allow the deduction has increased steeply over the past few years.  Initially, the cost was relatively modest because the deduction was limited to 3 percent of qualifying income.  The percentage rate rose to 6 percent in 2007, and the final increase to 9 percent took effect in the 2010 tax year.  Federal estimates suggest that allowing this deduction will reduce the revenue yield of corporate taxes by roughly 2.8 percent in 2014 and also reduce individual income taxes somewhat.
States can pass legislation to opt out of this special tax break. 25 states are currently affected by the loophole, while 22 other states have taken the positive step of closing it: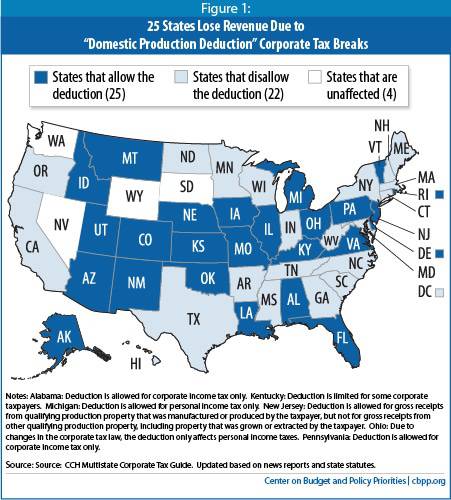 We need to work to reduce these nonsensical loopholes and increase revenue. Read the entire report here, and follow us on Twitter and Facebook to stay updated on tax news.