Related Posts
What Would Charles Walgreen Think?...
The mayor of Charles Walgreen's hometown -- Dixon, Illinois -- knows how Walgreens' founder would feel about the corporation changing its headquarters address to dodge U.S. taxes.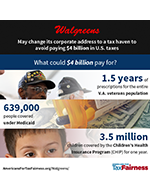 What Could $4 Billion Pay For?...
Check out our latest infographic, based on our report about Walgreens' potential move of its headquarters offshore to avoid U.S. taxes. Then share it with your friends over social media.