By William Rice, Policy Consultant, Americans for Tax Fairness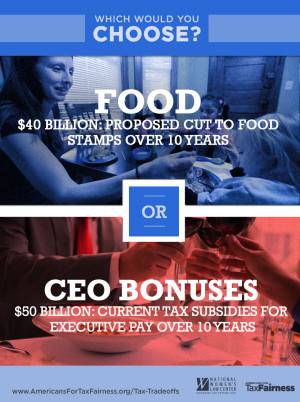 Congress has a choice: Will it cut a program that feeds poor children in order to protect tax subsidies for CEO pay?
The Supplemental Nutrition Assistance Program (SNAP), commonly known as Food Stamps, helps provide food for millions of struggling American families. The program has been a lifesaver in the aftermath of the Great Recession, as poverty and unemployment remain high and wages have stagnated.
Yet, Republicans in the U.S. House of Representatives have announced a plan to kick 4 to 6 million more low-income people off the SNAP program. 10-Year Budget Cut: $40 billion.
Meanwhile, our tax system subsidizes corporations by giving them a tax break for what they pay their top executives. The law limits the tax deduction to $1 million – more than 20 times the income of the typical household (p.5) – but there is a loophole for so-called "performance-based" pay.
This loophole provides an unlimited tax deduction that costs billions. It also provides incentives for CEOs to take huge risks with their company's money in order to boost short-term gains. Even when those risks lead their companies to the brink of collapse, executives are often still rewarded richly for their performance. 10-Year Tax Break: $50 billion.
The choice is clear: fully fund food for kids by cutting tax subsidies for CEOs.