By Will Rice, Americans for Tax Fairness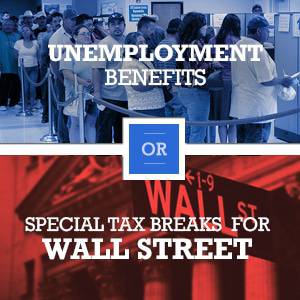 Going jobless for over six months may seem rough, but apparently it's Wall Street's riskiest gamblers who really deserve our sympathy.
Thanks to across-the-board spending cuts (known as the sequester), the long-term unemployed are facing a $46 cut in their already austere average weekly benefit of $289, according to the National Employment Law Project (NELP). Savings: $2.4 billion.
Meanwhile, wealthy speculators who rapidly trade risky investments called derivatives are shielded from their fair share of taxes (p. 15) – never mind that it was this kind of casino capitalism that brought on the Great Recession. Normally, quick traders are denied the special low tax rate enjoyed by long-term investors, but dabblers in derivatives are allowed a good chunk of the special treatment. Cost: $2.7 billion.
Moral of the story: Don't suffer unemployment. Cause it.
—
See here NELP's analysis of how the sequester cuts have affected the unemployed in each state participating in the federal Emergency Unemployment Compensation (EUC) program.