By William Rice, Policy Consultant, Americans for Tax Fairness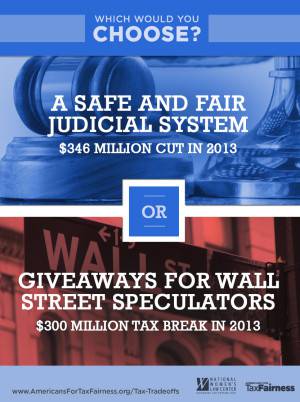 Tense, last-minute negotiations to end the federal government shutdown have, in essence, put our democracy on trial. But the shutdown—on top of earlier, across-the-board budget cuts knows as the "sequester"—has put a lot of other trials on hold, and kept our federal courts from running as they should.
Once the government's open again, we could restore almost all the lost funds to the courts by closing one little Wall Street tax loophole.
In August, the chief judges of 87 district courts wrote a letter to Congress, warning of the "devastating impact" the sequester (and other cuts) were having on their courts. They described how laying off probation officers is putting public safety at risk, and how a 30 percent reduction in courthouse security is making the courts themselves a risky place. But they called the reduction in public defenders, who safeguard the rights of defendants who can't pay for a lawyer, the most "significant" cut of all. 2013 Budget Cut: $346 million (p. 4)
Short-term Wall Street traders are supposed to pay regular income tax rates on their earnings, rather than the lower tax rate given to long-term investors. But a wrinkle in the law allows certain speculators to, as Warren Buffett once put it, "own stock index futures for 10 minutes" and be allowed to pay the lower tax rate. Annual Tax Break: $300 million (p. 15)
Justice requires we close Wall Street loopholes—in more ways than one.