By William Rice, Policy Consultant, Americans for Tax Fairness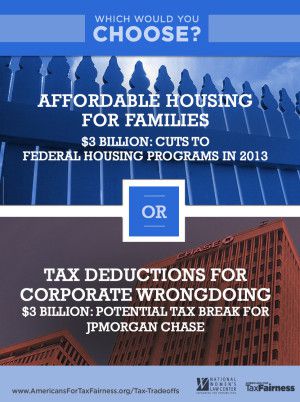 Wall Street — home to America's biggest banks — cost a lot of Americans their homes and touched off the Great Recession by underwriting billions of dollars of high-risk mortgages, and selling them to investors without identifying the risks. Banks made billions of dollars in the process. But when corporate wrongdoers are brought to account for their bad behavior with big civil judgments or settlements, they are sometimes able to get a big tax break by deducting the payments from their taxes. Federal housing programs have no similar way of sharing the pain when facing budget cuts—U.S. families simply lose the services that help them find and maintain good homes.
JPMorgan Chase is America's richest bank, with $2.4 trillion in assets. Federal and state prosecutors have reached a tentative $13 billion settlement with the big bank over faulty mortgages it packaged and sold to investors in the lead-up to the 2008 financial crisis. JPMorgan may well be able to write off the entire cost of this settlement as a regular business expense, substantially reducing what it owes in federal income taxes. This would make all of us pay a second time for the company's bad behavior. Tax Break: $3 billion.
The federal Department of Housing and Urban Development (HUD) assists the homeless, elderly and people with disabilities in finding homes. It also provides vouchers that make apartments more affordable for families in need, guards against housing discrimination, provides community development grants, removes toxic lead from homes and performs a lot of other useful services that help keep roofs over many people's heads. The across-the-board budget cuts known as the "sequester" have diminished HUD's ability to keep America well housed. 2013 Budget Cut: $3 billion (pp. 31-32).
We should be helping families to get into decent housing, not subsidizing indecent behavior by big corporations that ruins families' chances for a home.