By William Rice, Policy Consultant, Americans for Tax Fairness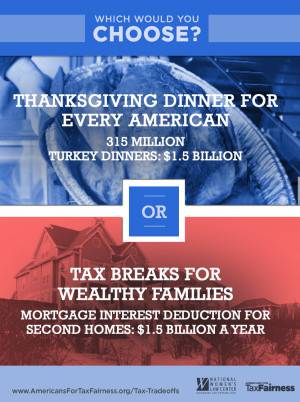 Thanksgiving celebrates family and gratitude — and undoubtedly wealthy families are grateful every year for the special treatment they receive from our out-of-whack tax system. They often pay lower tax rates on the income generated from accumulated wealth (pp. 4-6) than middle-class workers pay on their wages and salaries. They are able to shield family fortunes from an ineffective estate tax, passing along unearned riches and power to future generations. And they can deduct from their taxes the mortgage interest they pay on loans to finance second homes — including yachts. Meanwhile, a lot of Americans have trouble keeping food on the table, an especially painful struggle around Thanksgiving.
America's most famous meal, Thanksgiving, draws needed attention to the scandal of hunger within the world's richest nation. Even though one in seven U.S. households were "food insecure" in 2012, nutrition assistance programs have been repeatedly cut in recent years. By closing tax loopholes, we can ensure everyone has enough to eat, on Thanksgiving and throughout the year. Cost of 31.5 Million 10-Person Thanksgiving Dinners: $1.5 billion.
Mortgage interest was made deductible to encourage middle-class home ownership. But wealthy families can use the same break for fancy vacation homes — and even for yachts ("Qualified Home"). Believe it or not, anything with sleeping quarters, a kitchen and a bathroom counts as a mortgage-deductible home to the IRS. So even as millions of American homes were "going underwater" during the mortgage crisis, the "second homes" of many rich families floated securely on top. Annual Tax Break: $1.5 billion (p. 6)
This Thanksgiving, we just can't stomach the mortgage interest deduction on vacation homes and yachts.