By Jay Davis, Digital Director, Americans for Tax Fairness
Think back to the last time you deducted the cost of a speeding ticket from your taxes.
That's right — you've never done that. People aren't allowed to do that.
But JPMorgan Chase likely will get to deduct an amount from its taxes that it had to pay for its corporate wrongdoing.
Back in the mid-00s, the megabank played a leading role in financing the mortgage crisis. It would buy up faulty mortgages pushed on unwitting American families by shady brokers, then repackage those mortgages into faulty securities they sold unwitting investors. Millions of families lost their homes; millions of other families lost their investments. This mortgage crisis spiraled into the financial crisis.
JPMorgan just settled a case this week with the U.S. Justice Department for these faulty mortgages, to the tune of $13 billion.
That's more than any single corporation has ever been required to pay to the U.S. government, and it's almost half of the bank's annual profits.
Appropriately, some of the money will go to suffering homeowners (and former homeowners). It comes a little late, though, for them — and for the investors who lost their shirts buying JPMorgan's garbage mortgage securities.
But now there's even more bad news: the company admits it will be able to deduct $7 billion of the settlement from its taxes. It can claim the settlement costs are just like any other business expense.
That means American families will be paying for JPMorgan Chase's wrongdoing all over again.
A few weeks back, 145,000 folks took action online with our friends at U.S. PIRG, and another 15,000 took action with Americans for Tax Fairness, telling the Justice Department not to let JPMorgan deduct the cost of this settlement from their taxes. The Department heard us, somewhat — and it saved taxpayers $700 million by blocking the bank from deducting its $2 billion fine.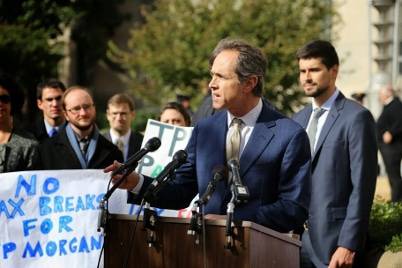 The Internal Revenue Service gets the final call on whether to allow JPMorgan to take the full $7 billion deduction — but we can make the final call on every other case of corporate wrongdoing going forward.
There's a new bipartisan bill before Congress that's being advanced by Sens. Jack Reed (D-RI), Chuck Grassley (R-IA), John McCain (R-AZ), Elizabeth Warren (D-MA), Lisa Murkowski (R-AK) and Bill Nelson (D-FL). It will prevent any corporation from writing off the costs of settlements with the federal government from its taxes.
Tell your members of Congress right now to support the Grassley-Reed bill.
Make sure your friends know about it, too. Share it over social media, talk about it when you're out with your friends this weekend, call your mom and your dad — just be sure to spread the word.
When big corporations like JPMorgan Chase hurt the American people, we can't let them off the hook.