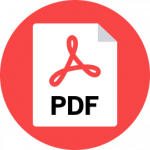 Gives most of the tax cuts to the richest 1%. The share of tax cuts going to the richest 1% is 62% in 2027, up from 18% in 2019. Their tax cut will be $33,000 in 2027, on average. [Tax Policy Center (TPC)]
Raises taxes on 87 million middle-class families by 2027 to pay for tax breaks for the wealthy and corporations. That is one-half of all households making less than $200,000 a year. 67 million households making less than $100,000 a year would also pay more in taxes after the temporary tax cuts for individuals expire. [TPC and chart below]
Mandates automatic Medicare cuts of at least $25 billion in 2018 and $400 billion over 10 years. In effect, seniors will pay for tax breaks for corporations and the wealthy as automatic spending cuts are triggered by tax cuts that add $1.4 trillion to deficits. Automatic cuts will total $136 billion in 2018 and include cuts to agriculture subsidies, student loans, military retirement and more. [Congressional Budget Office (CBO)]
Pays for corporate tax cuts by raising health care premiums and leaving millions of families without health coverage.
To raise revenue to pay for permanent corporate tax cuts, the plan repeals a key part of the Affordable Care Act—the requirement for individuals to have health coverage if they can afford it. This will lead to 13 million more people being uninsured and cause a 10% increase in health insurance premiums. [CBO]
The corporate tax rate is slashed from 35% to 20%, losing $1.3 trillion. That's nearly equal to the $1.5 trillion cut the Republican budget makes to Medicare ($473 billion) and Medicaid ($1 trillion). [Joint Committee on Taxation (JCT) and Center on Budget and Policy Priorities (CBPP)]
TAX INCREASES IN 2027 UNDER SENATE TAX PLAN, By Income Level
Income Range
# of Taxpayers
Pct w Tax Increase
# With Tax Increase
Avg. Tax Increase
Less than $10,000
11,720,000
5.8%
679,760
$30
$10,000-$20,000
19,720,000
37.1%
7,316,120
$60
$20,000-$30,000
23,050,000
44.5%
10,257,250
$120
$30,000-$40,000
17,940,000
52.6%
9,436,440
$140
$40,000-$50,000
13,980,000
60.2%
8,415,960
$140
$50,000-$75,000
28,590,000
66.1%
18,897,990
$140
$75,000-$100,000
18,870,000
63.1%
11,906,970
$140
$100,000-$200,000
35,420,000
57.6%
20,401,920
$200
$200,000-$500,000
13,520,000
43.4%
5,867,680
$440
$500,000-$1 million
1,580,000
26.7%
421,860
$810
More than $1 million
1,070,000
15.2%
162,640
$1,010
All
186,640,000
50.3%
93,879,920
$170
Less than $100,000
133,870,000
50%
66,910,490
$127
Less than $200,000
169,290,000
52%
87,312,410
$144
Source: Tax Policy Center, Table T-17-0278, Nov. 20, 2017

http://www.taxpolicycenter.org/model-estimates/senate-tax-cuts-and-jobs-act-passed-committee-finance-nov-2017/t17-0278-major