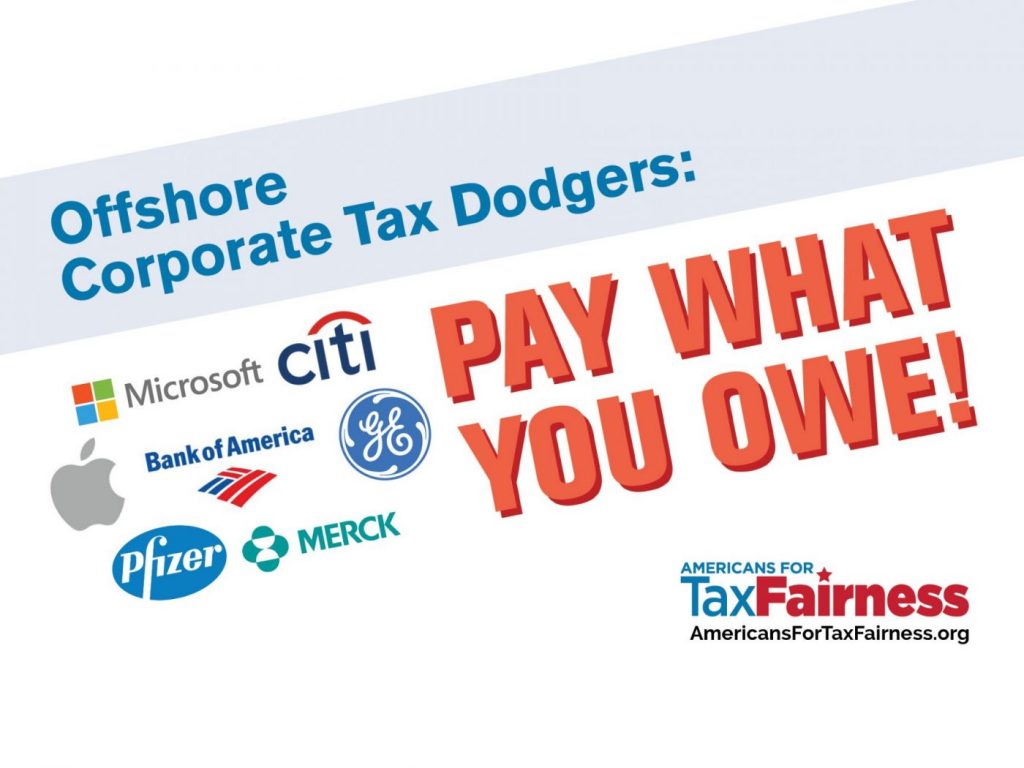 WhiteHouse.gov "We the People" Petition urges Treasury Department to force corporations to pay the taxes they owe on their current untaxed offshore profits
WASHINGTON, D.C. –More than 120,000 Americans have signed a petition urging President Obama to instruct the Treasury Department to force American corporations to pay the U.S. taxes they owe on their offshore profits when they complete a corporate inversion. Under an inversion a larger U.S. company merges with a smaller foreign company. In order to dodge U.S. taxes on offshore profits, the newly merged company is officially foreign, while still maintaining its operations and headquarters in the United States.
The petition is being submitted to President Obama as the Treasury Department is expected to soon finalize a rule to limit the tax benefits of corporate inversions.  The rule would fully implement a Notice Treasury issued in 2014 that contained a major loophole Pfizer appears to be planning to exploit if it completes its merger with Allergan, which is based in Ireland – a tax haven. By using a so-called "hopscotch loan," Pfizer will be able to dodge as much as $35 billion in taxes it owes on about $150 billion in offshore profits by lending those profits to its new foreign parent, Allergan, once the merger is completed, according to a recent report by Americans for Tax Fairness.
Now that more than 100,000 confirmed signatures have been submitted, the White House is required to issue a response.
The coalition of organizations that promoted and circulated the petition includes: American Family Voices, Americans for Tax Fairness, Campaign for America's Future, Corporate Accountability International, Courage Campaign, Daily Kos, Deluge, Economic Policy Institute, Left Action, National People's Action, National Priorities Project, People For the American Way, The Nation, The Other 98%, The Zero Hour, USAction, and Watchdog.net.
The official petition text reads:  "We urge you to instruct the Treasury Department to update its 2014 Notice or issue a new Notice to prevent Pfizer and other corporate tax dodgers from shirking their responsibility to pay the taxes they owe on their current untaxed offshore profits. Pfizer alone owes an estimated $35 billion on its stash of untaxed offshore profits. That huge sum could be used to pay for investments in education, infrastructure, public safety, renewable energy, medical research, and much more. Mr. President, please stand up for the American people – not corporate tax dodgers!"
This memo provides additional information about the inversion tax loophole Pfizer and other companies are exploiting and Treasury's authority to close it.
This webpage provides the full petition that people were asked to sign, and their names were then forwarded to WhiteHouse.gov. It has nearly 209,000 unique signers. That number is nearly double the number of signers on the White House petition page. There was a substantial drop-off in signatures as signers to WhiteHouse.gov had to confirm they signed by responding to a second email from the White House.