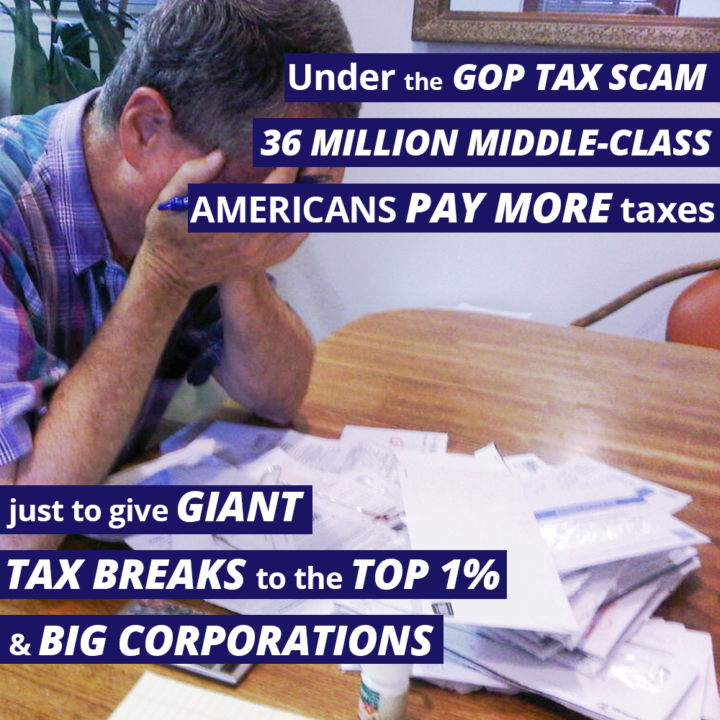 The tax plan scheduled for a House vote this week—the one touted by President Trump and Congressional Republicans as a tax cut for the middle class—would actually raise taxes on 36 million low- and middle-income American taxpayers by an average of $1,130 a year once it's fully phased in, based on data from the Tax Policy Center. All those paying more would have household income below $155,000 in 2027. [See Table]
By comparison, the House tax bill showers nearly half (47%) of the tax cuts on the richest 1% of taxpayers, giving them a tax cut of $62,000 on average.
Taxpayers facing higher taxes by 2027 include more than one-quarter of middle-income Americans who would pay an average of $1,300 more in taxes by the tenth year because the tax plan repeals or limits deductions that these taxpayers rely on. Those facing a tax hike include:
13% making less than $28,000 a year — $320 tax increase
One-quarter of those making between $28,000 and $55,000 — $760 tax increase
3 in 10 taxpayers making between $55,000-$93,000 — $1,230 tax increase
27% of those making between $93,000 and $155,000 — $2,090 tax increase
TAX INCREASES IN 2027 UNDER H.R. 1: TAX CUTS AND JOBS ACT

Income Groups

# of Taxpayers
Pct w Tax Increase
# with Tax Increase
Avg. Tax Increase

Top Income Level in Quintile

Lowest Quintile

50,190,000

13.0%
      7,026,600
$320

$28,100

Second Quintile

42,290,000

24.0%
   10,149,600
$760

$54,700

Third Quintile

36,880,000

30.0%
   11,064,000
$1,230

$93,200

Fourth Quintile

30,280,000

27.3%
      8,266,440
$2,090

$154,900

Fifth Quintile

25,810,000

35.5%
      9,162,550
$5,830

Above $154,900

All

186,640,000

24.2%
   45,166,880

$2,080

Bottom 80%

159,640,000

22.6%
   36,004,740

$1,130

Middle 60%

109,450,000

26.9%
   29,480,040

$1,309
How? The GOP plan does away with several key breaks families rely on to reduce their annual tax bill. Big among them: the personal exemption, and the deduction for state and local income and sales taxes (SALT). The personal exemption reduces taxable income by around $4,000 for each member of the family. The SALT deduction avoids double taxation and makes it easier for communities to pay for local services like roads and schools.  The plan increases the value of some other breaks—like the standard deduction and child tax credit (at least temporarily)—but not enough to shield those 36 million middle-class Americans from a tax increase.
More important than how tax hikes could result from a so-called tax cut bill is why. The answer is GOP tax writers need to pay for trillions of dollars in tax giveaways to huge corporations and other businesses owned by wealthy Americans. They pick up a part of the tab for these tax handouts to the rich by increasing taxes on the middle class. Moreover, they'll put $1.5 trillion on the nation's credit card through higher deficits, which means once the tax bill is passed Republicans will demand deep cuts to Medicare, Medicaid, public education and other vital services in the next budget round.
House members now have 36 million more reasons to vote no on the GOP tax bill.