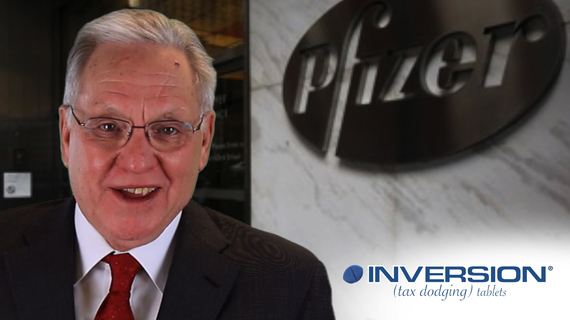 Washington, DC – Today, in honor of Tax Day and to highlight corporate inversions and other tax-dodging schemes, American Family Voices, Americans for Tax Fairness, and the Agenda Project Action Fund launched a video parody ad entitled "Inversion, from Pfizer, the Makers of Viagra."
"Like Viagra helps men with erectile dysfunction, Inversion helps corporations with the other E.D.: earnings dysfunction," said AFV Executive Director Lauren Windsor. "Corporate inversions and other tax avoidance schemes may be good for corporate bottom lines, but they are bad for America."
The pharmaceutical giant recently halted its corporate inversion plans with Ireland-based Allergan, after the Treasury Department and the IRS issued new rules governing such mergers, which closed off some of the major tax benefits.
Said Agenda Project Action Fund's Erik Altieri, "Tax avoidance schemes, like corporate inversion, are just another example of unconstrained corporate greed. Large corporations dodge taxes, offshore jobs, and bend over backwards to deny their workers a living wage with decent benefits. If these companies want to sell their products in the United States, it's time they start paying their fair share of taxes."
The groups are urging supporters to tell the Treasury Department and Congress to close the inversion loophole permanently, and to require all American corporations to pay the taxes they owe. This video is part of a broader coalition effort encouraging supporters to submit comments to the IRS in support of the new rules.
"This video is funny, but corporate inversions are serious business. Pfizer's inversion would have allowed it to avoid paying up to $35 billion it currently owes in U.S. taxes on the corporation's offshore profits," Americans for Tax Fairness Executive Director Frank Clemente said. "If collected, that could fund the National Cancer Institute for almost seven years, provide high-quality pre-school for all low-and moderate income four-year olds for nearly five years, or help pay for many of the other national priorities."
###
Americans for Tax Fairness is a diverse coalition of 425 national and state endorsing organizations that collectively represent tens of millions of members. The organization was formed on the belief that the country needs comprehensive, progressive tax reform that results in greater revenue to meet our growing needs. ATF is playing a central role in Washington and in the states on federal tax-reform issues.
A link to the youtube video mentioned in this post can be found here.