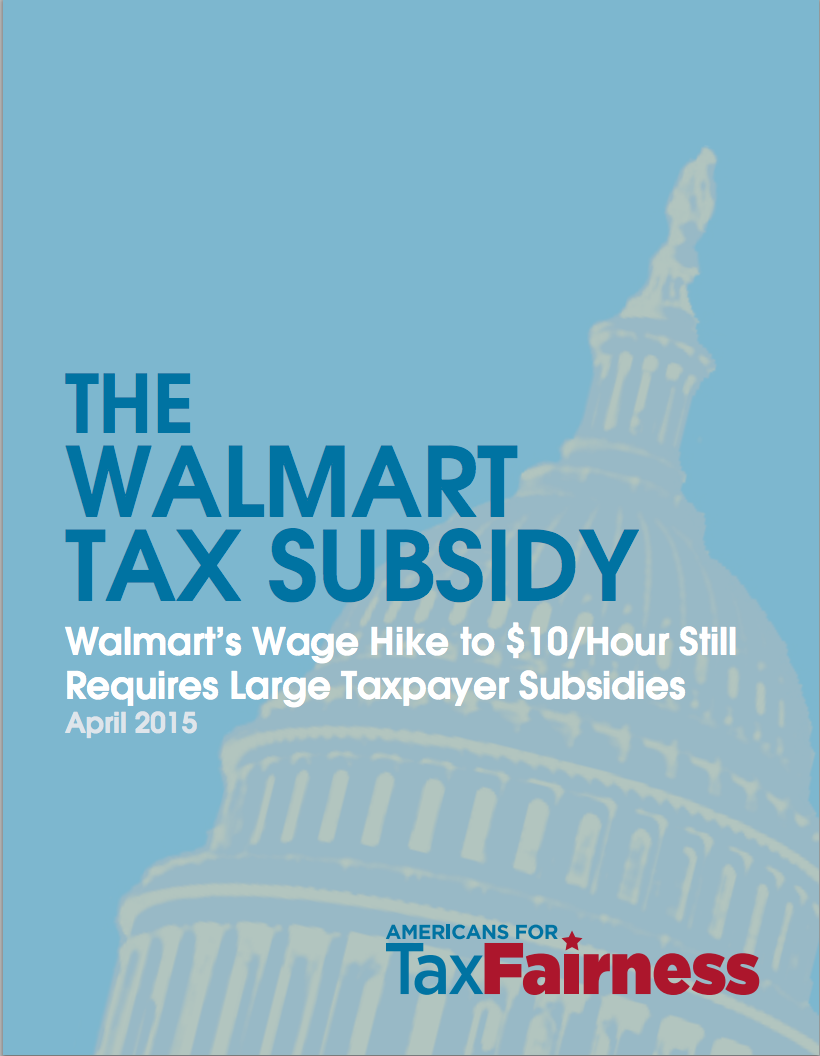 As Walmart prepares to implement its previously announced plan to hike wages to a minimum of $9 an hour in April, Americans for Tax Fairness has published a new report detailing how employee wage hikes to $9 in 2015 and to $10 in 2016 will still require large taxpayer subsidies to compensate for Walmart's low wages.
In April 2014, ATF released a report estimating that Walmart benefits from $6.2 billion a year in taxpayer subsidies because it does not pay many employees a high enough wage, so they must rely on food stamps, Medicaid and six other taxpayer-funded programs to survive.
The new report, The Walmart Tax Subsidy: Walmart's Wage Hike to $10/Hour Still Requires Large Taxpayer Subsidies, is available here.
"Tax Day is approaching, and millions of Americans are wondering why their tax dollars are being spent subsidizing the nation's largest company, which is majority owned by four of the nation's richest billionaires," said Americans for Tax Fairness executive director Frank Clemente. "This report has a simple finding: If Walmart paid its workers $15 an hour taxpayers wouldn't have to pick up Walmart's tab."
In February 2015, after several years of public pressure Walmart announced that no worker will earn less than $9/hour beginning in April 2015, and by 2016 all workers who have passed a six-month training period will be paid at least $10/hour.
 The new ATF report analyzes the effect of these small wage increases and finds that:
Even after Walmart's planned wage increases are fully implemented, large taxpayer subsidies will still be required to compensate for Walmart's low wages.
Many Walmart workers being paid $9/hour would qualify for public assistance. At $9/hour and 34 hours a week (Walmart's definition of "full-time" work), an employee would take home just $15,912/year. This single worker would qualify for three out of five public programs for which they would be eligible. A worker with one or more children would qualify for all eight of the programs studied.
Many Walmart workers being paid $10/hour would also qualify for public programs. A worker paid $10/hour and working at Walmart's "full-time" of 34 hours a week would take home just $17,680. With two or more members in their household, this worker would qualify for all eight programs.
Increasing Walmart employees' wages to $15/hour at full-time work of 40 hours a week, or $31,200 a year, would lift many of its workers above the income level at which they would be eligible for these programs. Households with up to two people would not be eligible for seven out of eight programs. 
The four primary Walton heirs saw their fortune increase by $20.9 billion between March 2014 and March 2015. For about half this money – $10.8 billion – the Waltons could give every one of Walmart's 1.3 million U.S. employees a $5/hour raise and still pocket $10 billion.
Shareable graphics here, here, and here.