By Will Rice, Senior Writer/Researcher
Donald Trump is not helping disaster victims when he urges Congress to quickly pass tax cuts for the wealthy as a response to the Gulf Coast hurricanes. Far from helping, reducing federal revenues by trillions of dollars through the kind of tax giveaways to the rich and corporations Trump is calling for would hobble federal relief programs just when the people of Texas and Florida need them most.
Last week at a meeting of his Cabinet, Trump said, "…with what's happened with the hurricane, I'm gonna ask for a speed-up" on tax legislation. This week, he tweeted: "With Irma and Harvey devastation, Tax Cuts and Tax Reform is needed more than ever before. Go Congress, go!"
But pushing through his wealthy tax cuts—and the budget cuts to critical services needed to pay for them—will only add man-made disaster to the existing devastation. In his budget for next year, Trump has proposed billions of dollars in spending reductions for agencies that work to reduce the impact of natural disasters and help communities recover when they occur.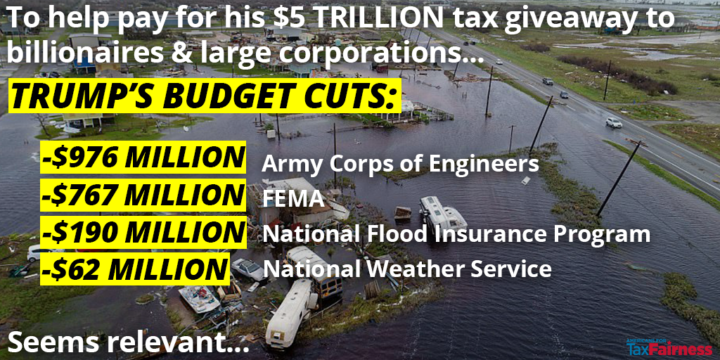 He wants to cut the budget of the Army Corps of Engineers by 16%, or nearly a billion dollars. The Corps is responsible for flood prevention and other efforts to mitigate natural disasters.
Trump would slash the budget for the government's weather forecasting agency by about 16%, or $900 million. The National Oceanographic and Atmospheric Agency (NOAA), which houses the National Weather Service and the National Hurricane Center, predicts the strength and direction of killer storms.
Trump wants to reduce by over $750 million grants from the Federal Emergency Management Agency (FEMA) that states and localities use to prepare for disasters like Harvey and Irma.
He would completely eliminate several disaster-related programs. Among them are the $3 billion Community Development Block Grant (CDBG) program, which includes disaster recovery grants to help dispossessed victims find new homes; the Global Research Program of the Environmental Protection Agency (EPA), which studies the role of global climate change in dangerous weather events; even an effort to update the nation's flood maps to make them more accurate and useful.
These budget cuts—and trillions of dollars more, to Social Security, Medicare, Medicaid, education and other vital services—are only necessary because Trump wants to cut taxes by up to $4.8 trillion, mostly benefitting the wealthy and big corporations.
Instead of trying to hurry his tax cuts through Congress, the way Trump could really help disaster victims—and tens of millions of other working families across the country—would be to scrap his disastrous tax and spending proposals altogether.