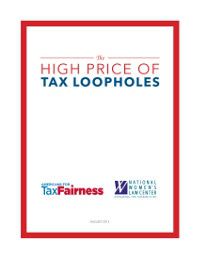 Report: The High Price of Tax Loopholes
The U.S. Congress faces a choice: continue trudging down the austerity road of budget cuts and sluggish growth, or turn toward a prosperity built on investing in our people and everyone paying a fair share of taxes. That choice is what the budget battles in Washington this fall will really be about.
The choice is clear: more tax cuts for the rich and big corporations, or more service cuts that hurt average Americans and fewer investments that offer opportunities for a better future. It's time to stop tax dodging and invest in America.
You can read the full report here: Report: The High Price of Tax Loopholes
Or take a look at the one-pager: One-Pager: The High Price of Tax Loopholes
Or see it broken down in this table summary: Table of Tradeoffs
---
Tuesday Tax Tradeoffs
Every week Americans for Tax Fairness posts a new Tuesday Tax Tradeoff blog post, further detailing what is at stake when corporations don't pay their fair share. Here are our most recent posts: